Heather Shockley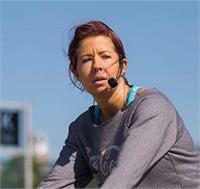 Heather Shockley instructs the following:
Alignment based yoga, linking breathe with postures. Emphasis on body and breath awareness and slower, more controlled movements in a meditative mindset. Includes stretching along with simple but challenging sequences, holding postures in order to understand and notice placement of the entire body within the framework of the breath and feel sensation. Hot temp. ranging between 85-95 degrees.




Find your own rhythm in a cycling workout that delivers maximum cardio results with minimum impact on your joints.

RPM™ tunes you in to great music and takes you on a journey of hill climbs, sprints and flat riding.

You control your own resistance levels and speed so you can build up your training level over time. Your instructor will show you how to set up your bike and all the basic cycling moves. If you want a true sense of achievement, get into a RPM class today.