Lisa Mayes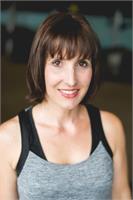 Lisa Mayes instructs the following:
Find your own rhythm in a cycling workout that delivers maximum cardio results with minimum impact on your joints.

RPM™ tunes you in to great music and takes you on a journey of hill climbs, sprints and flat riding.

You control your own resistance levels and speed so you can build up your training level over time. Your instructor will show you how to set up your bike and all the basic cycling moves. If you want a true sense of achievement, get into a RPM class today.




LES MILLS SPRINT™ is a 30-minute High-Intensity Interval Training (HIIT) workout, using an indoor bike to achieve fast results.

It's a quick and hard style of training that returns rapid results with minimum joint impact.

The short duration of a LES MILLS SPRINT workout will motivate you to push your physical and mental limits. It features bursts of intensity where you work as hard as possible, followed by periods of rest that prepare you for the next effort. The payoff is you will smash your fitness goals and burn calories for hours after each workout.




BODYPUMP™ is for anyone looking to get lean, toned and fit – fast.

Using light to moderate weights with lots of repetition, BODYPUMP gives you a total body workout. It will burn up to 590 calories*. Instructors will coach you through the scientifically proven moves and techniques pumping out encouragement, motivation and great music – helping you achieve much more than on your own! You'll leave the class feeling challenged and motivated, ready to come back for more.