Jessie Grobmyer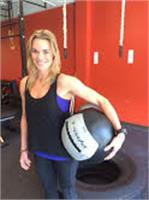 Jessie Grobmyer instructs the following:
Formerly Powerhaus Pilates:

Using our popular Pilates Reformers, TRX bands, and yoga techniques, this class will focus on your abs while targeting the entire body with cardio intervals.




Using Rowers, kettlebells, TRX bands, slam balls, sand bags, heavy ropes, and bodyweight exercises, this class will focus on toning and cardio for the entire body.




A fast paced ride (either choreographed or high intensity intervals) coupled with getting off the bike between songs and doing a 1 minute set of strength, weight, balance, or cardio moves. Zoning in on major muscle groups. Two classes in one. Major calorie burn!




H.I.I.T. High Intensity Interval Training -- This workout is plateau proof because it stimulates different energy groups and muscles in each workout segment, changing the focus and activities every 4 minutes. Programming includes strength, cardio and plyometrics training which provides both aerobic and anaerobic improvements.