Stephanie Newman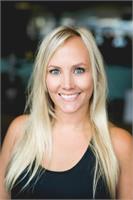 Stephanie Newman instructs the following:
Cardio Barre is a unique class that combines barre work with low impact cardio and light weights. Class starts on a mat with a quick warm up and several mat routines that are designed to work your entire body. We move to the barre to sculpt our glutes, thighs, calves and abs. Class ends back on the mat for core work and cool down. This class is only 50 minutes and we use upbeat music to make your workout fun!




35-45 minute studio class is tabata style but with barre exercises. Focus is on sculpting and strengthening long, lean muscles while burning maximum calories! Bring a water bottle, no mat or shoes required. Optional yoga cool down after class.